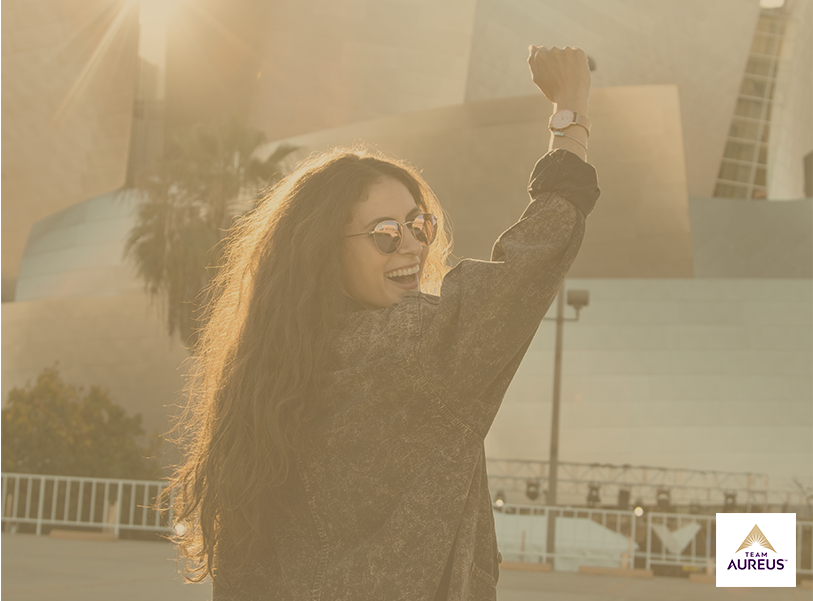 Does your confidence influence your ability to lead? Aretha Franklin seemed to think so when she said:
"If you're not going to be confident, you might as well not be doing it."

"Use your voice." "Stand up tall." "Make eye contact." "Sit at the table." "I've got this!"
These are some of the phrases we hear or use regularly, oddly often to express good manners or etiquette. Yet they also suggest, and imply, confidence.
Michelle Obama discussed the importance of using one's voice in a 2012 interview:"…you have to learn how to just hear yourself talk; and be comfortable with that…you should be able to talk to yourself for a good minute in a very upbeat way."
Sheryl Sandberg, first in a 2010 TEDTalk, and then in her book Lean In (2013), urges women to "sit at the table" rather than on the peripheral or the back of the room to be seen, heard and valued.
Mrs. Obama encourages that same behavior, saying: "If we (women) pull out of a conversation (i.e. 'leave the table,' in Ms. Sandberg's language) all that is left at the table are male opinions…when we pull our voices out, we're taking out a key component of the solution." So your work regarding confidence is to be present and use your voice to make meaningful contributions, rather than sit quietly on the sideline. Where do you sit in meetings? What words are you choosing, and what is your voice projecting?
"What do you wear to work?"
To answer this question, most people would likely reference clothing or other personal effects. But, have you ever considered wearing confidence to work? What would that outfit look like?
Beyond "dressing for success," what might confidence look like? How do you carry yourself? Where do you sit or stand? What is your body posture? What is your tone of voice? Your "confidence wardrobe" can garner attention in ways you may not be considering: your "look" is an important element of depicting who you are at work.
Remember that non-verbals and body language can sometimes be just as loud as words.
Stand tall. Sit at the table. Speak in firm, assertive tones. Talk about the team's values and its successes. These choices may seem small but often play a vital role in projecting confidence. Being valuable or meaningful starts with being "present." There is a lot you can do to quietly make sure others know you are in the room, without making noise or imposing on them!
In their book The Confidence Code (2014), Kay and Shipman cite a pervasive shortage of female confidence.
Examining confidence in the workplace from all sides, and at all levels, they conclude that for women, our relationship with confidence is tricky at best; and often triggers hesitation, insecurity and fear. Men repeatedly overestimate themselves and their abilities. Women fundamentally doubt themselves and hold themselves back. This allows men to move to the forefront because, in essence, they can, or they dare to.
It is vital to understand female confidence, and its impact on your effectiveness.
Intentionally choose behaviors that make you more present and visible, like the ones previously mentioned.
Keep your hand raised!
Do all you can to project confidence. Choose to always be at your best.  Stay committed to being a valuable asset to your team, and increase your aptitude to lead effectively with equity and fairness.
About the Author
JEANNIE O'DONNELL
Jeannie currently serves as Program Director at The First Tee of Mid-Michigan. She joined The First Tee in 2006; and has been privileged to contribute significantly to the network in both youth and adult development. She has an array of experience with The First Tee, as a Coach and Program Director, and a national trainer in two business units. She has designed and delivered adult education classes; written youth curriculum; and consulted on a variety of projects for The First Tee Life Skills Experience for youth and adults.